Serene Chan/Frost & Sullivan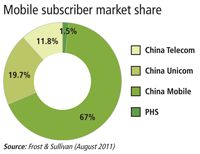 Many of China's key industries are booming, and the telecom sector is no exception. The country's three mobile operators continue to attract new customers at an enviable rate - the three added another 61.7 million mobile subscribers in the first half of this year.
The county's 920 million mobile subscribers is certainly a huge figure but equates to only 68% penetration. With millions of individuals still waiting to have a mobile phone, the level of competition among the top three players is nowhere near the intensity of markets like Indonesia and India, with each having more than ten mobile operators.
The world's largest mobile operator by subscriber volume, China Mobile, added 32.9 million new subscribers in the first six months of this year to reach a total of 616.8 million, effectively controlling the market with 67% share. China Unicom now has a total of 181.6 subs and China Telecom is third with 108.4 million.
China's economic growth has been driving the need for more sophisticated services as subscribers get increasingly hungry for mobile content. Operators have responded to this insatiable need by pumping in RMB 289 billion ($44.6 billion) in developing 3G networks. Having gotten off to a slow start in the early years, the three operators are finally reaping reward for their efforts. According to the latest figures by China's Ministry of Industry and Information Technology (MIIT), growth in 3G subscribers has jumped 56.7% since last December to reach 73.8 million subscribers through June, pushing 3G penetration to 8%.
The growth is further fueled an affordable range of smartphones. Mid-range handsets now cost between RMB700 and RMB900 ($108 and $140). And China Telecom has announced that it will subsidize 42% of the price of selected 3G smartphones. Frost & Sullivan expects the 3G penetration rate to reach 11.2% before the year's ends.
As 3G adoption gains momentum, the world's second largest economy is getting ready for the next technology leap. China Mobile has been the center of attention as it takes the market on a global scale with the advanced version of TD-SCDMA, TD-LTE. Clearly, the operator is keen to ensure that history does not repeat itself and so far, it has been making all the right moves.
Pages