HKT to offer 4K UHD service in 2016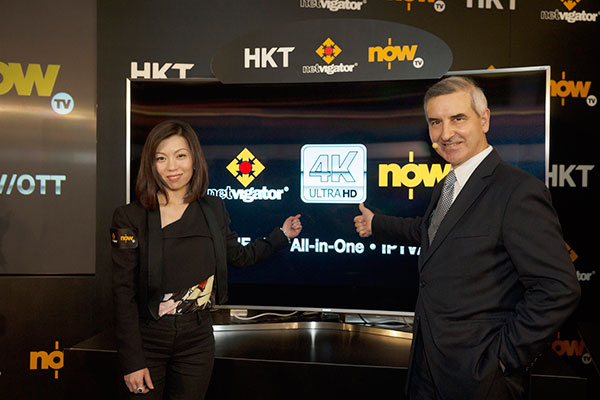 HKT and Now TV, the telecom arm and pay TV unit of Richard Li's PCCW Group, have announced plans to provide 4K ultra high definition (UHD) service for its customers in Hong Kong in early 2016.
"The demand for 4K viewing is increasing as more large-sized TV sets come onto the market at more affordable prices," HKT group managing director Alex Arena said.
"In this respect we are working with Now TV to bring a true 4K UHD experience to our customers."
The company will commence a pilot with selected Netvigator and Now TV from next month with commercial rollouts in the first quarter of 2016.
 "We will be choosing customers [for the pilot] throughout Hong Kong because want to test the network and service thoroughly," Arena said.
"We want to reach the market until we actually test it properly so that it's the experience that customers expected."
Arena said the 4K service is supported by HKT's vast fiber-optic broadband network.
According to Arena, HKT's FTTH service reached over 573,000 homes, while FTTB reached 87.1% households in Hong Kong in June. The company plans to extend the FTTB coverage to the remaining 13% in rural areas, islands, remote and isolated areas by year-end.
He declined to disclose the tariff of the new service, but said the service will be provided at an affordable price level.
Janice Lee, the managing director at PCCW Media, said customers of the 4K service will be given a new all-in-one appliance which supports UHD, IPTV, DTT, OTT and DVR.
The appliance delivers broadband TV content offered by now TV, regular digital terrestrial television channels and OTT services.
The appliance also has an embedded NFC chipset which allows Now TV and Netvigator users to NFC-enabled mobile payment services like HKT's recently launched Tap & Go service, Lee added.
Lee said NowTV currently has more than 200 leading content partners, including HBO, Fox, National Geographic, Discovery Channel, TVB, and the Disney Channel.
She said the company, which had 1.2 million IPTV subscribers as of June, is seeking for more relationships with content partners especially in terms of provisioning of 4K content, the amount of which is just started to increase.
In a separate announcement, HKT's international arm PCCW Global said it has launched a new internet-based video-on-demand (VOD) entertainment service in South Africa. The service, called ONTAPtv.com, is available with immediate effect via its website and using free Android and iOS apps.
Architecture of Radio reveals the interactive technological landscape we interact with daily
Alla Shabelnikova/Ovum
The regional economy is slowing, and staying put may tarnish the telco's image
The regional economy is slowing, and staying put may tarnish the telco's image
To help overcome regulatory reluctance to support consolidation