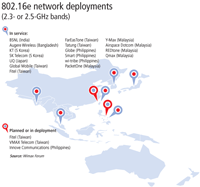 Asia Pacific has led the world both by the number of mobile Wimax deployments and the proportion to fixed Wimax deployments in the region. But is Asia pioneering with its emphasis on mobile rollouts or is it heading up an evolutionary dead end?
According to Maravedis, as of June last year there were 332 Wimax networks deployed worldwide, of which 42% were for fixed Wimax, compared to 37% for mobile Wimax (the remaining 21% were proprietary networks).
But among Asia's 79 Wimax deployments, 36 were mobile Wimax and just 26 were fixed Wimax.
Cintia Garza, 4GCounts team leader at Maravedis, said the discrepancy was down to the fact that regulatory conditions in Asia are generally much more favorable for the deployment of mobile Wimax than in the rest of the world.
In some major markets, including Brazil and Canada, regulators will not allow mobile Wimax services even where the 2.3- and 2.5-GHz bands most suitable for mobile Wimax have been released.
Most other countries have yet to release these spectrum bands, leaving operators forced to use the 3.5-GHz spectrum band, which is more suited for fixed deployments.
There are some exceptions in Asia, Garza said. "Some operators in Asia have deployed Wimax based upon the 802.16e-2005 standard but are providing fixed services only as mobility is not allowed in the country."
Pages