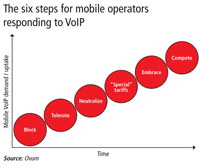 Without outside pressure, operators would not concern themselves with VoIP until they had LTE networks. By this time, operators would be able to offer their own VoIP services at a cost far below today's circuit-switched networks. However, in the real world, user demand, competitor strategies and increasing regulator interest in the net neutrality debate are dictating the timeline.
Most operators are clinging on desperately to their high-margin traditional voice service revenues. Yet these are being eroded in developed markets as competition and regulation push down costs to the end-user. In parallel, over-the-top VoIP services, such as Skype, are generating huge volumes of traffic over the fixed network and threatening to leverage the uptake in mobile data usage to take their services mobile.
Ovum has identified six responses adopted by operators through which they pass on the way to competing directly with their own VoIP service.
First, the majority of mobile operators are simply blocking VoIP access due to fears of cannibalizing their already pressured voice revenues and margins. Irrespective of the method used, this approach merely generates customer resentment, bad publicity and regulator attention.
Second, some operators allow restricted access, with tight controls and monitoring to assess the danger. Unfortunately, the problem does not go away on its own and demand continues to rise.
The next stage is to offer large voice bundles as a means of neutralizing the threat. One of the key drivers for user adoption of VoIP is cheaper calls, so large voice bundles bypass the danger, with the added benefit of a more convenient user interface.
However, by this stage operator intransigence may have attracted regulator attention. Therefore, several operators today have pre-empted the wrath of the regulators, particularly in Europe, by offering special VoIP tariffs that allow access. These are engineered to "meet" the demand, while being wholly unattractive to anyone wishing to use VoIP.
Pages