Rob Powell/Telecom Ramblings
Just about all network operators these days are looking to hook up the cloud, introducing new ecosystems and programs targeted on the new opportunities out there. Tata Communications did the same yesterday with a 'comprehensive cloud enablement platform' called IZO, but with a new twist. This one featured an ecosystem of 13 other network operators as partners.
Tata's IZO platform includes an Internet WAN component with 20+ providers, private connectivity to AWS, Azure, and other cloud providers, and a public component with prioritized content for its enterprise customers.
The networking and cloud providers they're working with are a long list of alternative network and cloud operators with regional depth and a hunger for more international attention:
ATM (Poland); CBCcom (China); HKBN (Hong Kong); Kordia (New Zealand); KVH (Japan, APAC); Neutrona Networks (Latin America); NOS Comunicações (Portugal); PLDT (Philippines), PT Indosat Tbk (Indonesia); Rogers (Canada); Starhub (Singapore); TalkTalk (UK); Viettel (Vietnam).
Partnering with up such a diverse group of network providers makes a lot of sense for Tata. Their network is very expansive, stretching all the way around the globe, but in most of those markets needs help getting beyond the main data center PoPs.
Likewise, those regional providers need partners to reach beyond their territories. To compete effectively with their larger brethren in the global enterprise cloud market, this is exactly the sort of alliance they all need.
Of course, the real key will be just how well integrated the networks and offerings of the various partners will be.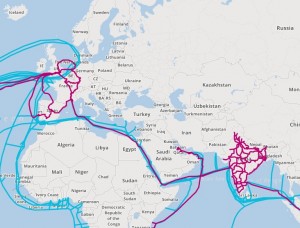 This article was authored by Rob Powell and was originally posted on Telecomramblings.com
Rob Powell is founder & editor of Telecom Ramblings, which was set up in 2008. The website is dedicated to discussing trends and developments in the telecom industry.
Related content