Telecom Asia May/June 2013 issue
Telecom Asia May/June 2013 issue
Login / Sign Up (free) to Download White Paper
Thank you for your interest in our premium content. To view the selected content, you need to register - it only takes a minute and will give you full access to all our content.
If you are a member, log in below. If not, please click 'REGISTER'
In the May/Jun issue: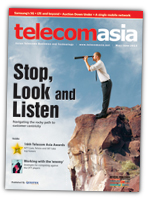 Cover: The arduous journey to customer-centricity
Telecom Asia Awards: Asia's Top Service Providers
OTT Threat: Strategies for competing against the OTT players
Mobility: BYOD needs no business case
Note: Chrome users may not be able to download some whitepapers or PDF files. If you encounter any difficulties, please use IE or Firefox to download the document.
By downloading this document, your details might be provided to the sponsor. If you cannot download the document, please contact us.