Rob Powell/Telecom Ramblings
Telstra Global, the international division of the Australian incumbent, is giving the 'global' part of its name a bit more weight by adding nine PoPs across four continents.
They've expanded their presence with new nodes London, Marseille, Stockholm, Osaka, Tokyo, Hong Kong, and Chicago, as well as two more back in Sydney.
That's three in Asia and two in Australia, markets where they are already focused, three in Europe where they seem to be on the move on multiple fronts, and just one in North America where they needed low latency connectivity to the financial markets in Chicago.
Since the NBN was born and its stranglehold on Australia's infrastructure was involuntarily turned upside down, Telstra has naturally started to look abroad for opportunities.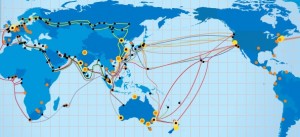 While they've got an impressive network map, most of it is via partners rather than owned infrastructure. When you're adding PoPs in these nine key cities as a means to expansion, you're really just getting started I'd say.
This article was authored by Rob Powell and was originally posted on Telecomramblings.com
Rob Powell is founder & editor of Telecom Ramblings, which was set up in 2008. The website is dedicated to discussing trends and developments in the telecom industry.
Related content