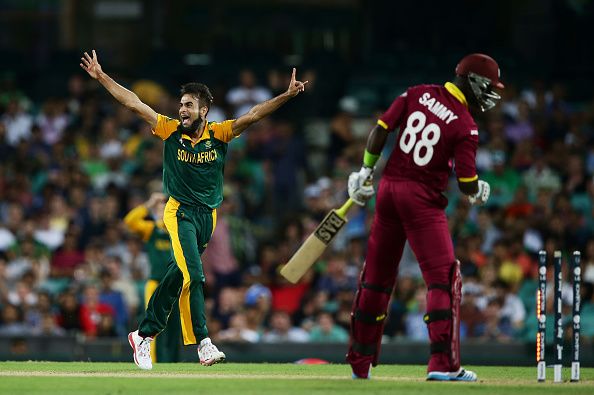 Test cricket is well and truly back with a bang this summer as South African begin their tour of the Caribbean with a two-match Test series against the West Indies this week. The 1st Test is set to start on Thursday this week and will feature some of the most promising talents in world cricket at the moment.
South Africa are in a distinct period of transition at the moment and have been unable to prevent a series of administrative issues from creeping into their dressing room. The Proteas are looking to turn a new leaf under Dean Elgar and have the talent and the resources needed to begin a new chapter in their Test cricket history.
As for the West Indies, a period of resurgence and development seems to have yielded some excellent players for the future. The likes of Nkrumah Bonner and Kyle Mayers have made their way into the setup and will be keen on proving their mettle against the Proteas.
South Africa and West Indies have not played Test cricket against each other in nearly seven years and this tour is likely to produce some interesting results. In this article, we take a look at five players who could make this Test series a treat to watch.
5. Quinton de Kock (South Africa)
Widely regarded as one of the best wicketkeeper-batsmen in the world across all formats, Quinton de Kock was well on his way to batting glory with South African before the burden of captaincy was unexpectedly thrust on his shoulders. De Kock has been a mainstay in the South African dressing room for several years now but a third responsibility proved to be one too many for the southpaw.
With Dean Elgar relieving the prodigy of his captaincy duties, Quinton de Kock will now be free to express himself with the bat the way he knows best. De Kock is an explosive hitter of the ball in Test cricket and his ability to score quickfire centuries have been an important part of South Africa's counter-attacks in the past.
De Kock's Test average has plummeted this year as South Africa slumped to consecutive defeats in Pakistan. The left-hander has managed a paltry 74 runs in his last six Test innings with the Proteas and has a massive point to prove as his team takes on the West Indies this week.
4. Jason Holder (West Indies)
Jason Holder has become the embodiment of the West Indies' fiery new-look team over the past year. The Windies' former captain has spearheaded his side's renaissance as a robust unit in Test cricket and has led by example with some brilliant contributions with both bat and ball.
Holder personifies the West Indies' fighting spirit and his all-round capabilities have inspired many of his young teammates in recent months. With a five-wicket haul and an impressive half-century under his belt this year, the 29-year-old all-rounder is in the form of his life and has stepped up as his side's talisman.
South Africa will present a unique challenge to the West Indies this summer but the home advantage will certainly work in Jason Holder's favour. The Barbados-based cricketer is a wily operator with the ball and can add more than a few valuable runs in the lower order on his day.
3. Anrich Nortje (South Africa)
When it comes to sheer pace and power, very few fast bowlers in the world today can hold a torch to South Africa's Anrich Nortje. The right-arm fast bowler has spent most of his life idolizing Dale Steyn and often invokes images of the great South African pacer with his own lethal action and speed.
Anrich Nortje has bamboozled a fair share of high-profile batsmen in the past and is perfectly capable of running through batting units at a shocking pace on his day. Nortje's Test career has blown hot and cold so far and the South African bowler will want to add an element of stability to his game in the Caribbean.
The West Indies' batting line-up has plenty of talent but does reflect a fair share of inexperience at the moment. Bowlers like Anrich Nortje thrive on uncertainty and discomfort and the Proteas will have to place their faith in a few doses of express pace to get the better of the Windies in their own backyard this month.
2. Kyle Mayers (West Indies)
Kyle Mayers is one of many young cricketers to have broken through the ranks to make an impact on the international stage this year. What sets Mayers apart from the rest, however, is the manner in which he made the world sit up and take note of his talent.
The West Indies, like most other cricket teams west of Asia, do not fare well in the subcontinent. The Caribbean giants opted to field a young and inexperienced team against Bangladesh earlier this year and predictably found their backs to the wall.
The Windies were set an astonishing target of 395 in the fourth innings and were nowhere in the picture as their top three were dismissed for low scores. Kyle Mayers, who was on debut at the time, had other ideas, however, and stunned Bangladesh with an unbeaten knock of 210 to complete the fifth-highest successful run chase in Test cricket history and secure a legendary victory for the West Indies.
Mayers represents a new wave of swashbuckling West Indian cricketers looking to make their mark on world cricket. Against South Africa, the 28-year-old batsman will face a formidable bowling attack and will look to prove his mettle yet again by adding to an already impressive tally of runs.
1. Aiden Markram (South Africa)
Aiden Markram is arguably one of the most flamboyant Test openers in world cricket today. With opening batsmen becoming more conservative with their approach to the new ball in recent years, Markram's swashbuckling style of batting is often a treat to the eyes.
That being said, the South African batman's aggressive stance and approach to Test cricket have often resulted in his downfall. Aiden Markram can run away with the game on his day but his average of 41 is often indicative of the bouts of inconsistency that have plagued his career.
At only 26 years of age, Aiden Markram has already emerged as a leader in the South African dressing room and has a long Test career ahead of him. The West Indies' bowling attack is not short on talent and Markram will have to get the better of yet another stern challenge this summer.