DCI e-Guide: give the cloud some backbone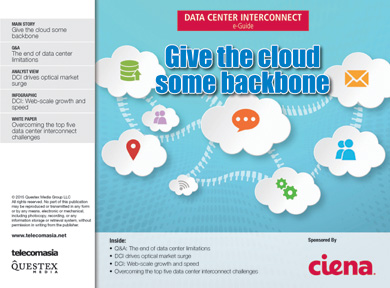 When people talk about paradigm shifts in the telecoms space, they're usually referring to things like access/core networks and device usage. Less talked about, but arguably more important, is the data center. After all, data centers are where "the cloud" exists, and the cloud is where more and more content is going to reside. As a result, the number of data centers is on the rise. According to Ovum and IDC, Asia is emerging as one of the largest and fastest growing market for new data centers, especially in metro areas.
All of these data centers have to be interconnected. Which sounds obvious, but the importance of data center interconnect (DCI) cannot be overstated. DCI is a crucial step in providing the backbone the cloud requires to do what it needs to do. And as our feature story reveals, there's far more to DCI than hooking up a fiber cable on either end.
Also in this e-guide:
Q&A: The end of data center limitations
DCI drives optical market surge
DCI: Web-scale growth and speed
Overcoming the top five data center interconnect challenges
By downloading this document, your details might be provided to the sponsor. If you cannot download the document, please contact us.
Should operators cater to customer preferences with SIM only plans?
Matt Walker / MTN Consulting
Webscale and transmission network operators' interests are aligning as the 5G era dawns
Webscale and transmission network operators' interests are aligning as the 5G era dawns
The launch of 5G by South Korean operators serves as a first benchmark for other operators around the world