Over the past several years there have been significant developments in the IT world. : Capital expenditures have increased slightly among big businesses;; mergers and acquisitions have driven once-stagnant telecommunications companies back to the front of the innovation line; advances in technology have made it worthwhile to implement consolidated architectures; and consumers have declared their desire for new services and products that include things like video teleconferencing podcasts and IP phones with wireless access.
Combined these events are driving companies and their leadership to re-evaluate their business plans and focus on realistic strategies for bringing new technology to their existing infrastructure and communications networks.
One of the fastest growing product offerings from service providers is a Multi-Protocol Label Switching (MPLS) backbone connection. In this article I will address one of the critical success factors to adding this new functionality and MPLS implementations: Gathering the customer's requirements in an effort to increase application support while decreasing point-to-point or circuit-based technologies like ATM or T-X lines.
MPLS advantages to consider
Unbeknownst to a fair number of people MPLS is not a new technology. Actually MPLS has been around for more than a decade although its transition into large carrier networks has been relatively slow. From a customer's perspective there can be some distinct advantages to using an MPLS network as their network transport including:
Convergence (voice video and data with a single backbone connection)

Segmentation and Security

Availability/Redundancy

Scalability

Adaptability

Cost

Control
What makes sense for the customer‾
These buzzwords make for great marketing material but alone they are just that. To measure the true impact of MPLS or any new technology for that matter a requirements baseline must be established. The most effective tool for establishing this baseline is a detailed assessment and it often begins with asking the question: 'What do you hope this solution/technology will provide'‾ By asking this simple question you can virtually eliminate the factors that aren't relevant to the client and uncover the foundation of their thoughts. The result: A solution which makes sense.
Getting to ithellip;
Let's assume you've asked a client or potential client the question above. When asked the 'requirement' question the client states that the company is looking for a technology solution that will allow them to add future sites without changing their core infrastructure or adding costly hardware.
This response provides a solution provider with a blueprint to gaining insight into the client's true requirements. Overlaying their response with the characteristics of an MPLS infrastructure you can start formulating a customized solution. Take a look at three of the factors previously listed and how they match up to the client's requirement response.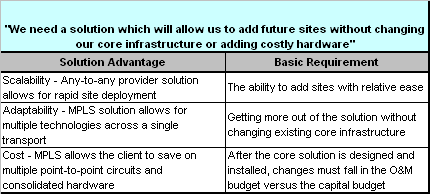 This is just one example of how requirements can start to shape the direction of a new solution. Keeping to the requirements is the only way to provide a design or deliver a solution that meets the client's needs and helps deliver on promise of quality. There are situations however where client requirements drive a solution to be too complex unmanageable or difficult to implement thereby negating the positives or selling points.
In the next article I will discuss the challenges of an MPLS solution including those that are client driven in order to help service provider product teams to make informed decisions and recommendations to the client while maintaining the quality in delivery and support.
About the author: Doug Downer is president of H2H Holdings Inc and Principal Consultant at Dynecon LLC. H2H is a premier provider of comprehensive Mission Critical Solutions from the facility through IT specializing in efficient intelligent and advanced integrated solutions. Find out more at http://www.dynecon.com/
Related content