Telekom Malaysia, Singtel win big at 20th Telecom Asia Awards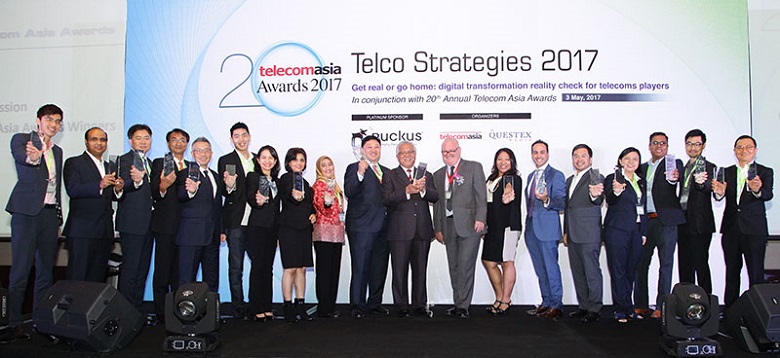 KUALA LUMPUR, May 03, 2017 – Telekom Malaysia (TM) and Singtel were awarded the top awards in the 20th Telecom Asia Awards on Wednesday night.
TM was the big winner for the night, taking home the Best Asian Telecom Carrier trophy and Best Broadband Carrier prize, while Tan Sri Dato' Zamzamzairani Mohd Isa was named the prestigious Telecom CEO of the Year. The company, along with its subsidiary VADS Lyfe, was shortlisted in six categories by the nominating judges this year.
Singtel – which had eight nominations this year - won the Best Managed Services Provider trophy and the Most Innovative Approach to Mobile Security for its Enterprise Mobility Management solution.
Indonesia's Telkomsel won the Best Mobile Carrier award, while Telenor Myanmar was named the Best Emerging Market Operator for its success in strengthening its position as a key challenger in one of the region's most exciting emerging markets.
Malaysia's Axiata Group won the Most Innovative Approach to Customer Experience, while its Indonesian mobile arm XL Axiata took home the Best Community Telecom Project for its XL Xmart Village 3.0, an ongoing effort that helps improve underdeveloped villages in Indonesia through the use of digital technologies including cloud, mobile advertising, e-commerce, geo-mapping and many more.
Ncell, Axiata Group's recently acquired mobile unit in Nepal, won the Most Innovative Telecom Project award for its collaboration with Gham Power Nepal to use solar power generated by micro-grids to power mobile towers to deliver voice and data services in remote areas.
TuneTalk won the Best MVNO award for the second straight year for its continued success in gaining share in the market. The Most Innovative Partnership Strategy award went to SK Telecom for its partnership with Ericsson and BMW Korea Group on the 5G connected car trial, which have applied some of state-of-the-art technologies  such as dynamic TDD, 3D beamforming & tracking, MU-MIMO, network slicing, and distributed edge cloud computing.
Globe Telecom grabbed the Most Innovative Approach to Analytics award for its Cognitive Digital Agent. Digi Telecommunications won the Most Innovative Video Service prize for Video Freedom, its "worry-free", timed access video streaming service.
The 2017 Telecom Asia Awards saw the addition of two new categories. TA's first ever Best E-Commerce Service trophy went to PLDT's innovation arm Voyager Innovations for its Virtual E-Commerce Marketplace. And YTL Communications won the second debut category - Best Most Innovative Voice Service – for its VoLTE service, the first of its kind in the Malaysian mobile market.
Meanwhile, NTT Communications celebrated the night with its fifth straight win for Best Cloud-Based Service, while Equinix was named Best Data Center Services Provider for the second straight year. BT also won the Best International Wholesale Carrier for the second straight year.
Netflix won the OTT Video Service award, while Alipay, operated by Ant Financial Services Group under Alibaba Group, was named the Best Mobile Payments Service.
A total of 21 awards were presented to 18 winners at a gala dinner in Kuala Lumpur Wednesday night. The awards were held in conjunction with Telecom Asia's 8th Telco Strategies conference.
Now in its 20th year, the Telecom Asia Awards are the region's longest-running and most prestigious telecom industry awards. They reward innovative and outstanding performance by Asian service providers and industry executives.
The Telecom Asia Awards selection is made by an independent panel of industry experts who cast votes on the basis of innovation, financial performance, technology, market leadership and corporate governance.
The judging is conducted over two rounds, and the methodology varies slightly between segments. In the first round, the 11 judges nominate their top picks in all categories – except for International Wholesale, Managed Services Provider and Data Center Provider, where the candidates are asked to submit nominations, and Best Asian Telecom Carrier, which is awarded to the company with the most top-place rankings and overall number of votes from the judges.
Readers were also invited to submit nominations online for 12 of the 21 categories.
In the second round, the judges cast their votes on the shortlist of finalists, which is determined by Telecom Asia editors based on all the nominations from both the judging panel and self-nominations in a number of categories.
The nomination process starts in January and voting is finalized in March.
2017 TELECOM ASIA AWARDS WINNERS
1. Best Asian Telecom Carrier: Telekom Malaysia (TM)
2. Telecom CEO of the Year: Tan Sri Dato' Zamzamzairani Mohd Isa, Telekom Malaysia (TM)
3. Best Mobile Carrier: Telkomsel, Indonesia
4. Best Broadband Carrier: Telekom Malaysia (TM), Malaysia
5. Best Emerging Market Operator: Telenor Myanmar, Myanmar
6. Best MVNO: TuneTalk, Malaysia
7. Best Cloud-Based Service:  NTT Communications: Cloud Management Platform (CMP)
8. Best Mobile Payments Service: Alipay, China
9. Most Innovative Partnership Strategy:  5G Connected Car /T5 (SK Telecom, Ericsson and BMW Korea Group)
10. Most Innovative Approach to Customer Experience: Axiata Group
11. Most Innovative Approach to Analytics: Globe Telecom
12. Most Innovative Approach to Mobile Security: Singtel, Enterprise Mobility Management
13. Most Innovative Video Service: Digi Video Freedom, Digi Telecommunications
14. Best Community Telecom Project: XL Axiata, XL Xmart Village 3.0
15. Most Innovative Telecom Project: Ncell, Gham Power Nepal
16. Best E-Commerce Service: Voyager's Virtual E-Commerce Marketplace platform
17. Best OTT Video Service: Netflix
18. Most Innovative Voice Service: YTL Communications: VoLTE
19. Best International Wholesale Carrier: BT Global Services
20. Best Managed Services Provider: Singtel
21. Best Data Center Services Provider: Equinix
About Telecom Asia
Telecom Asia is Asia's largest regional telecom publishing group. Its products include Telecom Asia magazine, www.telecomasia.net and a range of industry-specific supplements aimed at telecommunications professionals around the region.
Website: www.telecomasia.net
Twitter: www.telecomasia.net/twitter
Facebook: www.telecomasia.net/facebook
LinkedIn: www.telecomasia.net/linkedin
YouTube: www.telecomasia.net/youtube
For further information:
Lachlan Colquhoun
Group Editor, Telecom Asia, Telecomasia.net
Email: lachlanc@questexasia.com
Should operators cater to customer preferences with SIM only plans?
Matt Walker / MTN Consulting
Webscale and transmission network operators' interests are aligning as the 5G era dawns
Webscale and transmission network operators' interests are aligning as the 5G era dawns
The launch of 5G by South Korean operators serves as a first benchmark for other operators around the world