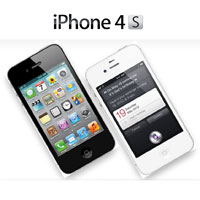 Apple yesterday unveiled the latest iPhone in the company's product line-up – but not, as many had been expecting, the iPhone 5.
The company
revealed
that the new iPhone 4S will use the iPad 2's dual-core A5 processor. Apple promises the chip can deliver twice the computing and seven times the graphics processing power of the iPhone 4.
The flagship feature this time around is probably Siri, the teased intelligent voice "assistant" feature, that aims to interpret commands spoken into the device. The device will use the new iOS5, and come integrated with the
iCloud
suite of cloud storage services.
But despite the new hardware specifications and features, much of the reaction to Apple's announcement has been atypically downbeat. Apple's stock
fell
as far as 4% in Tuesday's trading on the back of the announcement, but recovered most of the losses by market close and in after-hours trading.
The reception among pundits and online has also been lukewarm, with criticism centring on issues including connectivity and form factor.
With 4G rollouts gaining traction worldwide including in Apple's home US market, many observers had expected the next iPhone to include LTE connectivity. Instead, the iPhone 4S only supports HSPA+ at 14.4Mbps. But the device does sport both CDMA and GSM connectivity.
Another theme was a sense that the iPhones' 3.5" screens are starting to feel small when stacked up against the displays of some of the newest smartphones on the market.
Pages