Telekom Malaysia: Government push drives growth
| | |
| --- | --- |
| Best Broadband Carrier | Telekom Malaysia |
| Last year's winner: | Hong Kong Broadband Network (HKBN) |
| Business segments: | Broadband, data, fixed-line |
| Chairman/CEO: | Datuk Halim Shafie, non-independent non-executive chairman; Dato' Sri Zamzamzairani Mohd Isa, group CEO |
| Key stats: | 1.18 million premises, 1.66 million lines; revenue of $3.01 billion (9.15 billion ringgit), up 4.1% (FY11) |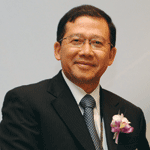 Telekom Malaysia declared 2012 as its customer experience year, focusing on delighting customers who take up their triple-play package and requiring managers to go through social media reports to nip any problems in the bud.
TM now has 1.66 million lines, of which 325,000 provide high-speed premium broadband service, dubbed UniFi, and the focus going forward is very much now on providing fiber to the home.
Rafaai Samsi, EVP of wholesale at TM, said that the company likely impressed the judging panel with operational and technical advances as well as its healthy growth last year. For this growth, he attributed much of the success to the Malaysian government, which is actively pursuing a target of 75% household broadband penetration by 2015.
Malaysia's household broadband penetration at the end of 2011 stood at about 62% of populated areas, up from just 31% in 2009.
TM serves 1.18 million homes out of Malaysia's 6.2 million households. High-speed internet has been TM's core business since the demerger of its mobile business in 2008.
The operator has a commitment to opening up its infrastructure as much as possible, and four telcos so far have signed up to use its network Ð Maxis, Celcom, P1 (a Wimax operator) and Redtone (a Wimax operator in East Malaysia, previously into VoIP).
"We embrace OTT with open arms. We encourage content providers to add value and ride on our platform," Samsi said.
In February TM launched its media delivery services, a distributed, cached solution targeting broadcasters from Southeast Asia and North Asia to deliver radio and HD TV content to its subscribers both for live and on-demand video without buffering and without wasting valuable bandwidth.
Pages
Should operators cater to customer preferences with SIM only plans?
Matt Walker / MTN Consulting
Webscale and transmission network operators' interests are aligning as the 5G era dawns
Webscale and transmission network operators' interests are aligning as the 5G era dawns
The launch of 5G by South Korean operators serves as a first benchmark for other operators around the world