Westgate Review
Download App
Extensive betting market

Complimentary drinks

Free Westgate Superbook Parking

Free Wifi
No welcome bonus for new players

Operates exclusively in Nevada
As big as Westgate is, there are still no welcome bonus offers for new players at the moment. But there could be occasional promotions for new signups, so make sure you ask the sportsbook representative while registering.
---
| Sportsbook | Westgate Sportsbook |
| --- | --- |
| Westgate Bonus Code | None |
| Maximum Bonus available | None |
| First-deposit bonus | None |
| Risk-free bonus | None |
| States where the sportsbook operates | Nevada |
---
2.2
Other Bonuses and Promotional Offers
Westgate hots occasional promotional offers for her users with massive winning pots.
Westgate Resorts SuperContest: The SuperContest is regarded as the ultimate football handicapping contest competition. It is trendy amongst bettors with huge payouts for the top against the spread NFL bettors. At the start of each football season, players register to participate in the contest and pick five pro games per week. They earn points for each win and half a point for a tie. The bettor with the most points over the entire season wins the contest, and a single bettor has a maximum of three entries. The entry fee is $1,500, and the top 100 contestants will win cash prizes this year. The winner in 2019 cashed out a record of $1,469,644.80.
Westgate Resorts SuperContest Gold: It is pretty much like the SuperContest except that the winner takes all in this type. The entry fee is $1,500, and the winner in 2019 took home $585,000. If you feel you're that good, you can go all out.
Westgate Resorts SuperContest Reboot: This is a separate contest from the SuperContest and gives players a second chance to win big. It runs from week 9 through to week 17.
4 quarter bonuses: Westgate has recently introduced a new 4 quarter bonus offer that each has a $135,000 prize pool with the top three carting home prizes:
1st position - $100k
2nd position- $25k,
3rd position - $10k
They also have later weekly selection deadlines compared to the SuperContests.
Players that register for the SuperContest are eligible for a complimentary 2-night stay at the Hotel every week during the football season. Westgate certainly does the most when they do anything.
Other seasonal contests include Major League Baseball & NBA Season and trade Wins, Hoops Central and Trade Challenge, Big Game Prop Contest amidst others.
As per Loyalty Programs, Westgate has a "WOW rewards" program that encourages existing players to keep coming back for more. It is exclusive to players that register and have a player's card. Like most sportsbooks, they are not extremely generous offers, but you can use them to get food, drink, or other things within the resort. Bettors earn Rewards & Tier Credits depending on the game or bet type, the amount paid, and how long they play for the sportsbook. You can redeem $1 for 100 Reward Points. Also, note that the player's card can be useful for bettors if you misplace your betting ticket. A single swipe, and you can track your bet.
| Bookmaker | Welcome Bonus | Exclusive Bonus | Freebet | Loyalty Program | Cashback |
| --- | --- | --- | --- | --- | --- |
| | No | No | No | No | No |
| | 30 USD | No | Up to 30 USD | No | No |
| | 100 EUR | No | No | No | No |
| | 1000 USD | No | No | No | Yes |
Add Bookmaker
The app is available on iOS via the Apple store and on Android. They are intuitive and easily navigable, and the interface is quite pretty on the eye. Recent updates to the software now mean that users can now access the app via wifi. You no longer need to urn off your wifi to play. Way to go!
The App is only available on mobile. There is no desktop app, and bettors cannot access the sportsbook via a website. Miomni designed Westgate's app, and it runs on their software - it is the typical software provider for most Nevadan sportsbooks. The theme features the yellow, black, gray, and white colors with a classy design and easy to read text. The geolocation feature is also applied to ensure that bettors are within the state whenever they play or make bets on the app.
Unlike most other states now, Nevadans cannot sign up or make deposits via the app, which removes a lot of the comfort associated with introducing mobile apps. After you login into the Westgate Superbook app, you can only place wagers from the app and monitor your bets. The least amount you can wager via the app is $5, but the maximum may vary for each player. To claim your winnings, you must also visit the sportsbook in person.
| Bookmaker | MetaScore | Bonus | Margin | Cash Out | Live Streaming |
| --- | --- | --- | --- | --- | --- |
| | | - | 8 - 10% | | No |
| | | 200 USD | 5 - 7% | Yes | Yes |
| | | 100 USD | 2 - 2,5% | Yes | Yes |
| | | 50% | 7 - 10% | Yes | No |
Add Bookmaker
While playing at sportsbooks is more of a recent trend, casinos have operated for several years, particularly in Nevada. The state stood out as the sole proponent for gambling in America in the early 20th century where laws like the Federal Wire Act of 1961, the Professional and Amateur Sports Protection Act of 1992, and the Unlawful Internet Gambling Enforcement Act (UIGEA) of 2006 combined to make life miserable for gambling franchises on the American market. They mostly did not apply to Nevada as the state already had some form of legalized sports betting. Nevada legalized gambling in 1949, and it has been a mainstay in the state since.
Each casino in Las Vegas tends to be good at one particular thing, and at Westgate, it's the sportsbook. Westgate Sportsbook is known as the Las Vegas Superbook and rightly so. Tagged as the "World's Largest Race and Sports Book," the sportsbook opened on the 2nd of July, 1969, and was at the time was the largest hotel and casino in the world. The casino is situated on the Las Vegas Strip's northern end and really does boast the world's largest sportsbook. Following the COVID-19 pandemic, the sportsbook reopened operations on June 18, 2020.
Now that the Professional and Amateur Sports Protection Act (PAPSA) of 1992 has been repealed, Nevadans might have increased concerns over the laws that brought sports betting to the state in 2013 In Nevada.
All sportsbooks must be affiliated with a retail casino provider within the state.
You can only sign-up/register, withdraw winnings, and make deposits at the sportsbook in person.
You cannot access any betting platform via a web/online platform, nor via a PC. It must be an Android mobile.
Westgate completed the retail sportsbook's renovation in 2016, upgrading its service and customer experience to a state-of-the-art standard. The estimated total amount spent was over $100 million, covering every inch of the sportsbook. Today, the renovated Superbook features:
A 25,000 square foot space which is the largest floor space at any sportsbook in the world
Available seats for over 300 guests with each seat fit with its individual 32-inch LED screens and headphones
19 wagering windows to cover the huge daily demand
There is also a large bar at the center of the sportsbook
A massive video wall with over 200 feet of Ultra HD (4K) screens
A non-smoking atmosphere with special arrangements for bettors that want to smoke
An easy to use mobile app
A complete bar fit with cocktail service, plus decent food options
VIP sections for big payers and parties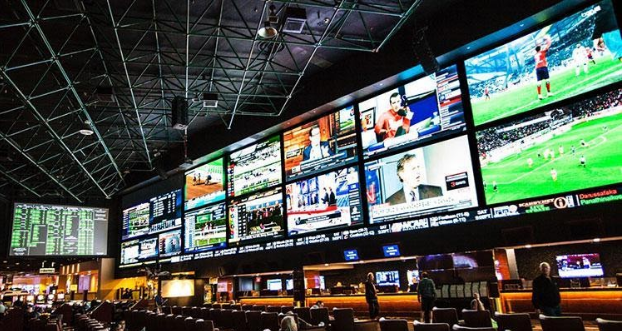 It is no doubt that Westgate is Nevada's most extensive wagering system. Aside from the over 300 regular seats, the sportsbook usually opens the Westgate Theatre on NFL Sundays, making more than an additional 1000 seats available for bettors in Nevada. Westgate is genuinely a sports bettor's paradise.
The SuperBook is open to Nevadans 24/7, but the sportsbook's betting hours are
Monday to Thursday from 8 AM to 10 PM
Friday and Saturday from 8 AM to 11 PM
Sunday from 8 AM to 10 PM
---
5.1
Westgate Sportsbook Wagering Lines
Westgate has some decent wagering lines, and the Westgate Superbook menu is one of the most extensive wagering menus of any independent sportsbook in the state. They are one of the first Las Vegas properties to post weekly NFL lines (Sundays at 4 PM) and have a fascinating list of parlay cards and prop bets on show.
The betting lines and odds are basically the same on the app as they are at the retail sportsbook. Some of the available bets include:
Point spread
Money line (full and partial game)
Parlay
Parlay cards (when available)
Round Robin
Teaser
Futures
Propositions
Westgate caters to some of the most prominent players in the game, as well as professional bettors. As such, the markets you most likely won't find at any other sportsbook in Nevada, as well as some of the best odds. They also usually post their odds and lines for upcoming events earlier than many others.
More betting options are available on the Westgate sportsbook's app, including live "in-play betting," where lines are listed for games that have begun. The odds change as events unfold in real-time, and bettors can place wagers as they follow the odds.
---
5.2
Games You Can Wager on at Westgate Sportsbook
The Westgate Sportsbook does not have an incredibly long list of gaming options for Nevadan bettors, but what it does, it does well. The game that players can place wagers on include:
Football (National Football League)
Baseball (Major League Baseball)
Basketball (National Basketball Association)
Ice Hockey (National Hockey League)
MMA and UFC
Top soccer leagues in the world
Boxing (Major fights mostly)
Golf
Tennis (Particularly on all four Grand Slam events)
---
New users at Westgate must register to play and be eligible for the array of bonus offers available at the Sportsbook. Laws guiding Sportsbook operations mandate that all players must register at the brick-and-mortar sportsbook.
As a result, even though players can download the app from anywhere in the state, they must show at the retail sportsbook to register. The sportsbook has also simplified the process of registration. All you need to provide is a valid ID and active Westgate Las Vegas players club card. The entire process lasts less than 20 minutes, and your account is ready to go.
However, to get your player's club card, you must sign up for the casino's loyalty club, which means you must get to the casino cashier. The cashier is on the left just before you enter into the Westgate Superbook.
---
5.4
Making Deposits and Withdrawals at Westgate Sportsbook
As mentioned above, you can only make deposits and withdrawals at the sportsbook in person. You must bring legal identification to set up your wagering account. The minimum first deposit amount is $100. Subsequently, you can deposit a minimum of $50. Deposits can only take place at the Westgate. Once your account is set up, the sportsbook will give you a unique account number and password. You can change the password within the app at any time. Withdrawals are made in cash at the Westgate sportsbook.
Company Name: Westgate Resorts
License: Nevada Gaming Commission
Address: 3000 Paradise Rd, Las Vegas, NV 89109, USA
---
6.1
Customer support for Westgate
The Westgate website has several downloadable materials that bettors can read up for more information about how to bet and occasional offers. While making deposits or signing up, you can always ask the representatives questions, and they are usually happy to help.
---
We have covered the fundamental aspects of playing at Westgate Superbook. In many ways, it is a leader for most other sportsbooks in the country, and if you are looking for an all-around great retail sportsbook experience, Westgate is the place to be.
Nothing was found for your query :(
Also ask
How does Westgate sportsbook work?
The sportsbook has a mobile app that bettors can use to place wagers and monitor their bets, but all other activities must take place at the physical sportsbook
How to play at the Westgate sportsbook?
Once you sign up in person, all you need to do is fund your account and start placing wagers
How to download the Westgate sportsbook app?
The Android app is available for download via the website as Google does not permit wagering app on the Play Store, but iOS users can download the app via the Apple store