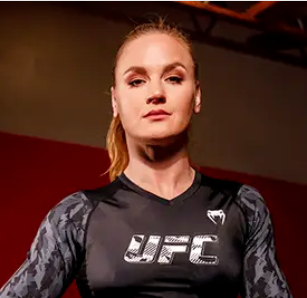 On September 16 in Las Vegas, one of the best female athletes in MMA history, perennial UFC women's flyweight champion Valentina Shevchenko will attempt to regain her title in a rematch with Mexican Alexa Grasso.
Bet on MMA with 1xBet
In an exclusive interview with Telecomasia.net, Shevchenko talked about:
- filming for the UFC 5 game;
- Fedor Emelianenko's appearance in the game;
- a tough training camp in Thailand;
- potential new opponents Erin Blanchfield and Manon Fiorot;
- acting experience in Halle Berry's movie.
"It's great that the new generation will be able to not only see but also experience Fedor"
- You became the second woman after Ronda Rousey who is featured on the cover of a UFC game. How important is this type of recognition for you?
- It feels really good and it gives me extra motivation. The guys made a lot of improvements to the game, and now everything looks so real and cool. They added a lot of colors and reality. When I was watching how it would look like, I noticed that it was so close to the real footage, it was actually amazing.
- Have you ever played the game, maybe even as yourself?
- I've tried playing, but I'll be honest, I'm better at it in the real octagon.
Bet on MMA with 1xBet
- You also took part in filming, using detailed motion capture. What was it like to experience this process?
- It's a very interesting process that takes several days. First, you are photographed from all angles to visualize your facial expressions, to get your face right. Then they stick chips and sensors on you and then there is some incredible computer modeling. It's very interesting because it's the same as acting. We recreated the scenes that will take place in the game itself before the battle as well as some technical movements.
- Fedor Emelianenko, who has never fought in the UFC, will also appear in this game as an extra character. Is his appearance a tribute from the company and a gift to the old-school fans?
- I think it's awesome when the new modern generation can not only watch videos of world-famous fighters, but also play as them, experience them. And although Fedor is no longer active as a fighter, his name still lives on and the younger generation can not only learn about him and his achievements, but also feel it, even if it's only a game.
Bet on MMA with 1xBet
"I had crazy sparring sessions in Thailand for three months to prepare for the rematch with Grasso"
- You have a rematch with Alexa Grasso ahead. Was the preparation for it any different from what it was before the first fight?
Of course, the preparation was different. We've been working very hard for three months in Thailand, at Tiger Muay-Thai. We had a very serious training camp with some crazy sparring. The physical level of my preparation was simply unreal.
- Do you consider a possibility to fight for the second belt in the bantamweight category, now that Amanda Nunes is no longer there?
- It's not important for me now. All my concentration and all my thoughts are about the upcoming Saturday. Whatever comes next will come next, but in order for that to happen, I have to go through this fight and win it. So I'm putting all my physical and emotional effort into focusing on the next fight.
- I will ask your opinion about the new contenders in the division, the representatives of the new wave - Erin Blanchfield and Manon Fiorot. Which of them do you consider stronger and more dangerous?
- It's impossible to say that someone is stronger and more dangerous. The two of them have drastically different fighting styles. One is a wrestler, the other is more of a puncher. They are both strong, they are all reaching their goal step by step and are getting closer to the belt as contenders. I've always had the following approach: I start analyzing and noticing all the dangerous moments only when I see the name of my next opponent on the "Bout agreement" paper. Then I can start working on improving my weak points and looking for my advantages.
- How do you feel about their challenges and their desire to fight you?
- I feel great about it. More challenges means more opportunities.
Bet on MMA with 1xBet
"I want to make a lively and positive movie about martial arts"
- You compared shooting for UFC 5 to acting. You've already had this experience in Halle Berry's movie Bruised. Did you enjoy that experience? Would you like to try other roles in the future?
- I think this experience was one of my most positive ones. And it's not only because it was the movie world, but because of the whole team - Halle Berry selected the people who had worked with her so that they would be on the same page with her. The vibe was amazing, because Halle is a very positive person, and she wants to work with people she trusts and can rely on. I think it was a great experience. I would love to do it again in the future and I think you should try everything.
- You also have a degree in directing. Did you want to make your own movie in the future?
- Of course, I believe that I should definitely do it in the future. Many people ask why I am not doing it now. It is impossible to combine professional fighting and professional film work. Each of them would take up all the time. You have to give it your all to get the best results. My fighting career comes first for me at the moment. In the future, when I have more free time, I will be able to switch and focus on the movie industry. Since I am a fighter and I've lived my whole life in the martial arts world, I think it should be a movie about martial arts, but it should be a lively and inspiring movie, to charge the people with positive energy, so that they will want to do martial arts, instead of thinking how bad and scary it is.
Bet on MMA with 1xBet
UFC Head Wants To Crush PFL And Make A Fool Of Ngannou: Will UFC Hold Tournament In Africa First?
Former Navy And MMA Fighter - Who Is Guarding Messi In The USA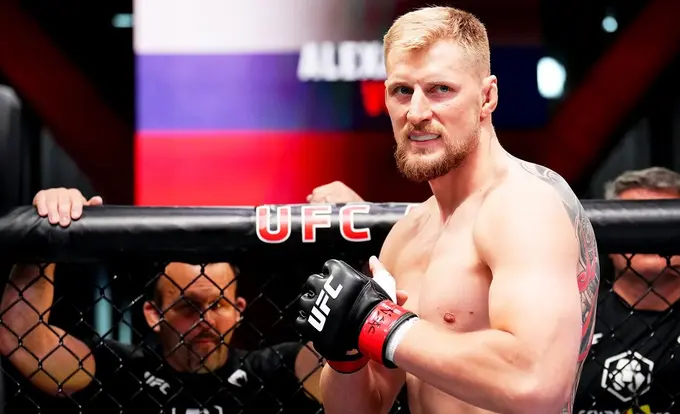 "I'm Ready To Fight Pavlovich". Interview With Top UFC Heavyweight Alexander Volkov